Allegro High Security Locks & Locksmith Software
AllCash have developed the Allegro High Security Lock for multiple uses and applications.  These applications include: 
Commercial Banking Environment – for use in Bank Branches i.e. Treasury Safes, Under Counter Teller Safes, Bulk Cash Transfer Units, Vaults and ATM's.  Both cubicle access doors and the actual ATM Safe doors can be fitted and protected with our locks.

 

Cash-in-Transit Branches where overnight vaults and safes need protection.

 

High security risk retail environments like consumer electronics and fragrance stores, mobile phone stores, tobacco storage/transporters and jewellery stores.

Secure Telecom depots and secure access areas.

 
We pride ourselves on the ability to adapt our products to each customers' unique requirements and our locks have proven themselves in the African marketplace for the past 25 years. 
The Allegro High Security Lock provides solutions for the various customer requirements for electronic locks. The lock can be set up as a Time Delay Lock for operation on a treasury safe in a branch environment or as a One Time Code (OTC) Lock on an ATM safe or with a Time Lock for remote branch sites. Variants are available for under-counter safes and bulk cash transfer units. 
Features 
Rugged keypad

Lithium ion back up battery

 

Smartphone App to provide secure one-time codes

 

Ethernet connectivity to provide remote monitoring, configuration and audit trail download

 

Hub to provide intelligent interlocking

 

In-house development and support

 
Functionality 
Single or Dual User PIN, One-Time Code and Dallas key opening options

 

Time delay and time lock functions

 

Closing code function

Door Open Alarm Trigger

 

CIT routing functionality

 

Activity audit trail

 

Interlocking for multiple locks and access doors

 

Duress function

Output to alert alarm monitoring company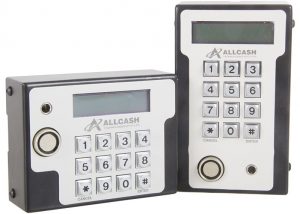 Locksmith Software:
Locksmith is a secure, end-to-end access control system. Through a combination of software applications and hardware, the Locksmith system offers complete control and monitoring of your access controlled environment. 
The Locksmith software manages, monitors, and encrypts the access control of all operators. A secure database stores information regarding the operators and their access. Information such as PIN codes, hours of access, accessible devices, and levels of access. 
The AllCash Communications Unit (ACU) is the interface between AllCash Allegro locks and the Locksmith software. Up to 8 Allegro locks can be connected to a single ACU. The device secures and encrypts all the communications between the Locksmith software and the Allegro locks. It is connected to the network via LAN interface. 
BackOffice provides a browser-based interface that allows operators to configure access control to sites and safes secured with the Allegro locks. The interface also provides real-time monitoring of all these devices. BackOffice can be operated on a Central or Regional basis, depending on the needs of the customer. 
The Locksmith Android App allows for Custodians to request and receive Decodes to open the Allegro locks they are currently at. The process is authenticated by user PIN and GPS location. The app uses GPS location to establish that the custodian is in the vicinity of the lock they need to access.